Product Description
Powerful Image Processing

PaperStream IP enhances standard TWAIN and ISIS applications by integrating cutting edge image processing technologies, without the need to change or
modify any software. Engineered by experienced Fujitsu experts, PaperStream IP saves both time and money by reducing the number of rescans and cuts the
amount of time it takes to setup a profile to just seconds.
Easy:

Compatible with all standard ISIS and TWAIN applications. Just select the PaperStream IP source to scan
Preset profiles clean up over 99% of standard documents. Quickly choose between automatic color detection, color, or black and white!
No need to learn driver settings. Assisted Scanning ensures the best image cleanup through visual selection
The preview option shows driver changes in real-time without a need to scan and test again
Fast:

Provides rated speeds for your scanners and scans color 300 dpi faster than ever!
Small footprint of only 100 MB, making a quick installation process
Powerful:

Cleans up the toughest documents, including decorated backgrounds, for improved OCR, reduced rescans, and curtailed specialized profile creation
Auto-rotates for less paper preparation and automatically fills in hole-punches and torn edges
Color Clean Up creates a uniform background for better reproduction and reduced file sizes on color scans
Assisted Scanning

Choose the best image: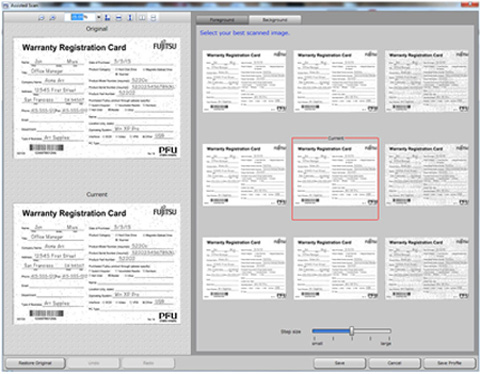 Here are the top reasons to try PaperStream IP today.




Supports TWAIN and ISIS Applications

Get more out of existing scanning applications without upgrading. Just select the new source to begin scanning.


Powerful Image Clean Up

Cleans up difficult documents with no profile adjustments. This reduces rescans and works immediately after install.


Assisted Scanning

Visually choose the best image for image replacement or profile setting without having to learn and manipulate advanced driver settings.


Fast

Optimized for both color and black & white scanning, giving fast speeds at 300 dpi.


Blank Page Deletion

Scan using duplex and automatically delete blank pages without having to select batch-dependent profiles.


Auto Color Detection

No need to sort documents or worry about optimized file size. With adjustable sensitivity, each page is automatically captured in the correct color
depth.


Auto-Rotation

Worry less about physically rotating paper. PaperStream IP corrects the orientation with high accuracy.


Color Clean Up

Color documents are automatically cleaned up for improved reproduction and reduced file sizes.


Built in Intelligent Multi-feed Controls

Improved integration with our powerful double feed detection allows operators to automatically bypass sticky notes, taped receipts and barcode labels.


Scanner Central Admin

PaperStream IP profiles and updates can be deployed to the scanner fleet. To find out more about Scanner Central Admin, please visit here: Scanner Central Admin.


Auto-Croping and Deskew

Mixed paper sizes are automatically straightened and captured at the correct size.


Hole-Fill and Edge Clean Up

Fills in hole-punches in both color and black & white as well as corrects the rough edge of the document, removing small tears.


Multi-Stream Support

Output up to three different color depths at once to eliminate rescanning.


64-Bit Drivers

True 64-bit driver option available for 64-bit software applications for enhanced speed and image rendering.


Barcode and Patch Code Support

Supports batch separation, using the latest barcode and patch codes.


Digital Endorsing

Digitally stamp images with a string, date, and/or time, including Julian Calendar dates.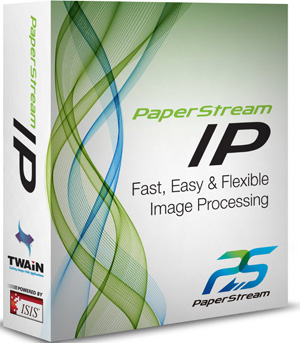 *Minimum PC Requirements: i5 2.5 MHz Processor, 4 GB RAM
Requirements

Scanners
fi-7160/fi-7260/fi-7180/fi-7280/fi-5950/fi-6800/fi-6770/fi-6670/fi-5530C2/fi-6240Z/fi-6140Zfi-6230Z/fi-6130Z/fi-6110/fi-60F
Operating system
Windows® 8 32bit/64bit Windows® 7 32bit/64bit Windows Vista® 32bit/64bit (SP2 and after) Windows® XP 32bit (SP3 and after), Windows®
XP 64bit (SP2 and after) Windows Server® 2008/2008 R2/2012
CPU
Intel® i5 2.5 MHz
Memory
4 GIG RAM
Hard drive space
120 MB hard disk space + 25 MB for 2D Barcode Option
Display
800 X 600 Screen Resolution
Applications
32 & 64 bit